Softwares
.
.
Useful Cnc software's.
.
Mach3 control system & software
.
Mach3 is the most intuitive CNC control software. Mach3 turns a typical computer into a CNC machine controller. It is very rich in features and provides a great value to those needing a CNC control package.
.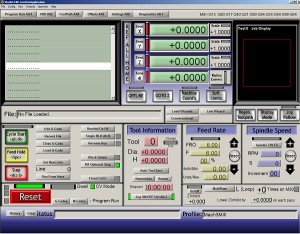 .
Here are some of the basic features and functions provided by Mach3:
Converts a standard PC to a fully featured, 2-6-axis CNC controller
Allows direct import of DXF, BMP, JPG, and HPGL files through LazyCam
Visual Gcode display
Generates Gcode via LazyCam or Wizards
Fully customizable interface
Customizable M-Codes and Macros using VBscript
.
Mac3 License : 120,-€
.
You get 10%-off when you buy your cnc here.
Click here to download demo :   Mach3
.
Cut2D
.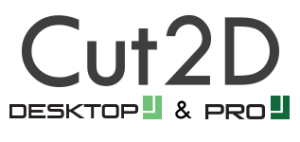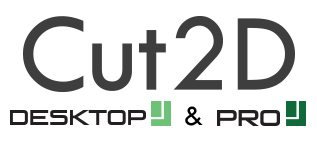 .
Cut2D is designed to help Hobby CNC machine users convert CAD DXF and graphics designs into GCode / CNC Toolpaths for machining parts and components.
Priced for the Hobby user, Cut2D is affordable, easy to use software that's very functional and creates high quality CNC toolpaths for virtually all CNC machines.
Automatic cutter diameter compensation, machines designs precisely to size without having to worry about manually offsetting geometry for the cutter being used.
Fantastic, high quality colour shaded 3D Preview with realistic material types that show exactly what the job will look like when machined.
.
Cut2D License : 120,-€
.
You get 10%-off when you buy your cnc here.
Click here to download demo :   Cut2D
.
Cut3D
.
.
Cut3D is a dedicated toolpath engine for CNC machining 3D models that have been designed using a 3D CAD or Graphics design product such as AutoCAD, Rhino3D, 3D Studio etc. or scanned using a laser or touch probe device. Cut3D's exceptionally easy to use interface leads you step-by-step through the process of loading a model, setting the size, interactively placing tabs to hold the job in place, calculating single, double or four sided roughing and finishing toolpaths, previewing the results and finally saving the CNC code to run on your machine.
3D Models that are too large / thick to machine because of gantry height, cutter length or limited material thickness can be 'Sliced' into separate pieces. Each slice can then be machined and the complete job assembled.
.
Cut3D License : 240,-€
.
You get 10%-off when you buy your cnc here.
Click here to download demo :  Cut3D
.
 Vectric V carve Pro
.
.
The complete software solution for CNC Routing, Sign Making, Wood Carving & Engraving at a truly remarkable price!
VCarve Pro provides a powerful but intuitive software solution for 2D design and calculation of 2D and 2.5D toolpaths for cutting parts on a CNC Router. It includes the functionality demanded by commercial shops and users, while remaining incredibly easy to use and affordably priced. VCarve Pro is used by cabiner makers, wood workers, sign makers, prop makers, plastic fabricators, hobbyists and in many other applications.
The software can import 2D designs from other programs but also includes a full set of drawing and editing tools with advanced layout options such as True-Shape Nesting. The toolpath options cover all typical 2D routing operations such as Profiling, Pocketing, Auto-Inlays and Drilling as well as 2.5D strategies such as V-Carving, Prism carving, Fluting and even a decorative Texturing strategy. Each toolpath includes appropriate options to customize the settings and provide a high level of control for different types of operation. In addition all toolpaths can be previewed to show just how the part will look when it is actually cut, this allows instant feedback to allow toolpaths to be further optimized.
.
Vcarve Pro License : 540,-€
.
You get 10%-off when you buy your cnc here.
Click here to download demo :  V Carve Pro
 .
Aspire
.
.
  Aspire is built on the same platform as Vectric's VCarve Pro software, sharing the intuitive interface and ease of use for production design and routing. In addition, Aspire also has tools to let you transform 2D sketches, photos, drawing and digital artwork into detailed 3D relief models and then to calculate toolpaths to accurately cut these shapes. Aspire is used by a wide variety of businesses and individuals to create decorative panels and doors, ornamental flourishes, custom millwork, architectural moldings, dimensional signage, carved company logos, custom gifts and awards, plus many more applications. Aspire's unique 3D component modeling coupled with the comprehensive set of 2D design and editing tools make it easy to work with existing 2D data or imported 3D models as well as giving you the ability to create your own 2D and 3D parts from scratch.
.
Aspire License : 1800,-€
.
 You get 10%-off when you buy your cnc here.
Click here to download demo :  
Aspire
.
PhotoVCarving
.
.
PhotoVCarve instantly converts photographs and images into high quality toolpaths that can be run on virtually all CNC routing and engraving machines. The ability to permanently CNC machine pictures onto jobs has been a challenge to many machine users and although there are software products that appear to offer the facility, they often fail to deliver in reality.
PhotoVCarve is also perfect for machining 3D Lithophanes directly from photographs, that make perfect gifts, keepsakes and mementos that will last for generations.
The opportunities PhotoVCarve offers are endless and it can be used by all CNC machine users. From the hobbyists who build their own 'home brew' tables to professional engravers running high cost industrial machines, the software offers something for everyone.
.
Photo Vcarve License : 120,-€
.
You get 10%-off when you buy your cnc here.
Click here to download demo :  Photo V Carve